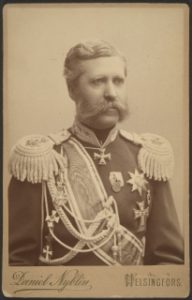 Major General
12.12.1832 St.Petersburg, Russian Empire
28.10.1887 Hämeenlinna, Grand Duchy of Finland
Son of Lieutenant-General Otto Wilhelm von Ammondt and Anna Carolina Sofia Cygnaeus, Edvard was destined to be a military man. Enrolled in the First Saint Petersburg Cadet Corps before transferring to the Hamina Cadet Academy in 1846. Graduating in 1853 with the rank of Ensign, he was assigned to the 1st Company of the Finnish Guards' Rifle Battalion. He quickly proved his worth and rose through the ranks rapidly, becoming a Junior Lieutenant the next year, Lieutenant in 1855. He was also made temporary adjutant of the Battalion's Headquarters in November 1855 before his position was made permanent in May 1856.
In 1859 he was promoted to Staff Captain and appointed to the Adjutant Wing of His Imperial Majesty. During the meetings of the Finnish Diet in 1863 and 1867, he represented his family within the Estate of Nobility. In 1865, the now Captain von Ammondt was released from his role as Adjutant of the Finnish Guards' Rifle Battalion and was then appointed battalion commander within the Life-Guards Lithuanian Regiment. In August of 1867 he was promoted to the rank of Colonel, then was given command of the Life-Guards 2nd Tsarskoe-Selo Rifle Regiment, a very prestigious honour.
In 1874 von Ammondt was appointed acting Governor for Mikkeli. Still a part of the Tsar's Adjutant Wing, von Ammondt was promoted to the rank of Major General in 1875 and enrolled into part of the Tsar's Retinue. His role as Governor was made permanent in mid-1875 but he wouldn't remain long in this posting, as in December of the same year he was made Governor of Häme. He would retain this position until his death in Hameenlinnä on 28th October 1887 and was buried in Porvoo.
Honours and Awards
1856 – Order of St. Stanislaus 3rd class
1858 – Order of St. Anne 3rd class
1865 – Order of St. Stanislaus, 2nd class
1868 – Commander of the Order of the Dannebrog
1870 – Order of St. Anne, 2nd class (the imperial crown was granted to this order in 1873)
1872 – Order of St. Vladimir 4th degree
1873 – Order of the Red Eagle 2nd Class
1879 – Order of St. Vladimir, 3rd class
1882 – Order of St. Stanislaus, 1st class
1887 – Order of St. Anne, 1st class
Ranks
1846 – Cadet
1853 – Ensign
1854 – Junior Lieutenant
1855 – Lieutenant
1859 – Staff Captain
1863 – Captain
1867 – Colonel
1875 – Major General
Family
Wife – Olga Vivika (née Ramsay; 16.9.1836 – 10.8.1902 ), married 26.10.1856
Daughter – Constance Sofia (29.8.1858 – 15.10.1941 )
Daughter – Sigrid Johanna (23.2.1860 – 15.12.1938)
Daughter – Olga Anna Maria (5.11.1863 – 14.2.1940)
Daughter – Dagmar Augusta Wilhelmina (25.2.1869 – 26.3.1957)
Sources
Edvard Reinhold von Ammondt, Biography Center, Finnish Literature Society
Volkov S.V. Generals of the Russian Empire: Encyclopedic Dictionary of Generals and Admirals from Peter I to Nicholas II, in 2 volumes. Centerpolygraph: Moscow, 2009.
Edvard Reinhold von Ammondt, Häme Wiki